Grows during the winter, cont.
Kelp has solved this problem in a clever way. During the summer it absorbs sunlight and through photosynthesis stores it as energy rich chemical compounds. Then during the winter when sunlight is in shortage, but nitrogen in the water is abundant, the plant breaks down these compounds to create energy and grow.
Some of the nitrogen that is absorbed during the winter is consumed directly, while the excess is stored until the summer, when light is again abundant.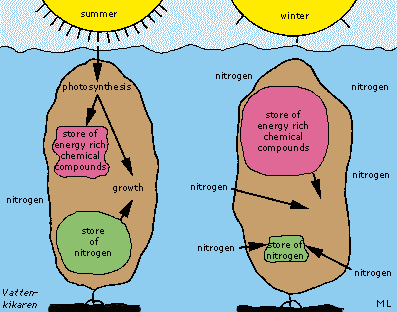 Simplified diagram of how kelp grows during the year. During the summer they fill their stores with energy rich compounds whilst emptying it of nitrogen. During the winter, the opposite occurs.
| | | |
| --- | --- | --- |
| | Page 3 of 9 | |