Reproduction
Mature receptacles, i.e. collections of reproductive organs, occur during high and late summer in abundance on the upper areas of the branches. Lateral branches of the first order have a sparse covering of 1,5 cm long lance-like "leaves" and rounded bladders.
Japweed is monocieous, i.e. the same plant has both male and female reproductive tissues, but should not be mistaken for the more arbitary definition - hermaphrodite. The eggs are fertilized on the outside of the female receptacle where they stay for 1-2 days. During this period a quick cell division takes place and the sprout developes a holdfast. Thereafter, the sprouts fall to the bottom and attaches to the substrate while they are 0,14 - 0,6 mm in size.
Summer and winter appearance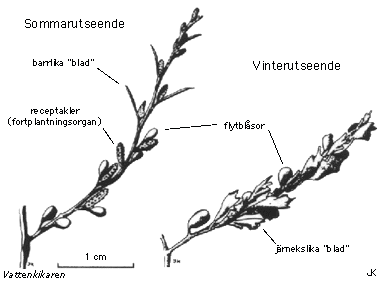 Branches of japweed showing their summer and winter appearance. Both forms have bladders, the summer form has lance-like "leaves", while the winter form has oak-like "leaves". Receptacles are present only in the summer form.
| | | |
| --- | --- | --- |
| | Page 2 of 9 | |