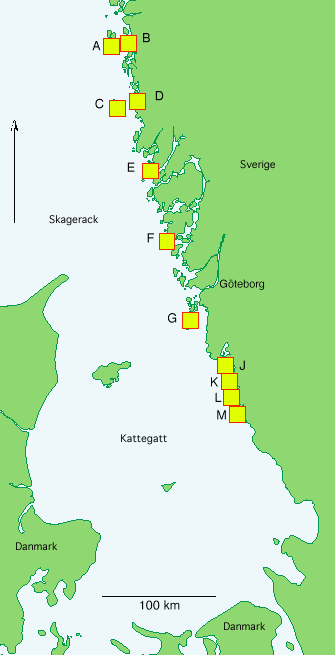 Areas where japweed has been registered: A) Koster Islands, B) Tjärnö area,
C) Väderöarna, D) Fjällbacka archipelago, E) Gullmarsfjords estuary,
F) Pater Noster area, G) Gothenburg´s southern archipelago, H) Särö coast,
J) Vendelsöfjord, K) Värö peninsula, L) Balgöfjord, M) Varbergs area.
Click on the squares on the map to see more detailed inlays of areas where japweed has been found.
If you are interested in reading more about japweed (Swedish with English summary):
Karlsson, J., Valentinsson, D. & Loo, L.-O. (1995). Sargassosnärja - Sargassum muricum - vid svenska västkusten. Naturvårdsverket slutrapport. 1-18.
Karlsson, J. (1996). Utbredningen av sargassosnärja - Sargassum muticum - vid svenska västkusten 1996. WWF rapport. 1-11.
| | | |
| --- | --- | --- |
| | Page 9 of 9 | |