The shell
The Black clam is one of Swedens largest Marine mussels. The shell has concentrical lines, that run around the hinge at the oldest part of the shell. The black band along the valves edge is apparent. In each half there are three powerful cardinal teeth, and in front of these there is a deep groove surrounded by a bumpy edge. The adductor scars are seen clearly on the inside of each shell. The foot, that it digs down with, is well developed and has two red-brown siphons.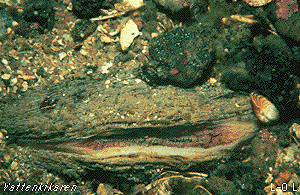 Half buried black clam
Dug down in the Atlantic
The Black clam lives dug down into the sandy or clayey bottom. Usually 4-5 adult clams are found per m2. They are found along the European Atlantic coast from the Barents Sea, The Faeroes, Skagerrak, Kattegat, North Sea, Bay of Biscay and the southern Baltic. Along the American coast they are found from Labrador to North Carolina.

Few enemies
During the clams first 2 or 3 years, when it is small and has a thin shell it is very vunerable and at this time is preyed upon by many fish. The only fish that is able to crush the thick shelled adult clam, is the wolffish, which it does quite often. Large starfish are also able to pry open the shell to eat the softer parts of the clam. Several thousands of tons are landed annually in North America for human consumption.