Siphons with eyes
The two siphons have grown together and with larger individuals are of such a size that they no longer can be accomadated in the shell. The siphons can attain a length that is twice that of the shell and reach up slightly over the bottom sediment. Their diet is composed of plankton that is sucked in with water via the inhalent siphon.
If you should wade out onto a shallow sandy bottom, it is possible to see the siphons as two holes in the sand surrounded by light sensitive tentacles, and if a shadow falls on them, the gaper pulls them together and the hole disappears quickly.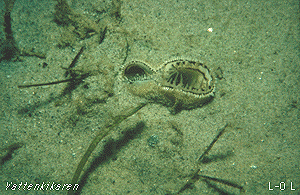 The siphons on a sand gaper. The inhalent siphon is situated on the right and the exhalent on the left. Some loose eel grass is also seen in the picture.
Immigrants
The Sand gaper, originally a North American species, is now very common on sandy bottoms along the west coasts of Europe. It is a rather late immigrant to the Baltic Sea, but has during the 20th centuary moved northwards. It arrived on the Swedish west and south coasts at the beginning of the centuary, and has since then spread so far, that it is becoming more and more common in the Stockholm archipelago. On the Finnish side of the Gulf of Bothnia, it has been found as far north as mid-Finland.
Food in the USA
In the USA and Canada several thousand tons of Sand gapers are fished annually, while in Europe the Sand gaper is not as popular. Sand gapers are fished by using a large scraper that is pulled along the bottom.


| | | |
| --- | --- | --- |
| | Page 2 of 2 | |