Shallow areas are common along the Swedish coast. Here, the winds that press water towards the land are of special interest because the undercurrents that carry the water away from land, are slowed down because of friction against the bottom.
Sometimes the weather can start periodic variations of the sea level. This happens in the Baltic, because of its form and size, so called standing waves occurr. This phenomenon is similar to when one trys to carry a bowl of water whilst supporting it against one body - the water starts oscillating. The water level becames higher in one side of the bowl compared to the other, and starts washing back and forth. In the Baltic when a powerful south-westerly occurrs, there can be a difference of about 1 metre in water level between the Gulf of Finland and the waters around Kiel in Germany. When the winds diminish, currents try to level off these differences, but the currents are so powerful, so that half a day later the water level is the opposite, with high water in the southern Baltic. Thereafter, the currents turn and run to the north again. Variations in the slope of the surface can continue over a period of several days.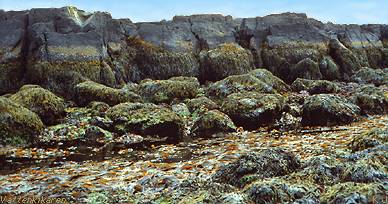 On Iceland, it is the tides that effect the water level the most. On this beach (pictured above), there is a difference of about 4 m between high and low water, occurring twice daily. Such variations do not occurr along the Swedish coastline, not even over long periods. In the channel, red-yellow and brown leaves of different kelp specie are seen.
| | | |
| --- | --- | --- |
| | Page 23 of 52 | |