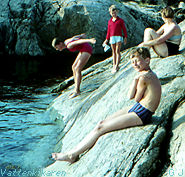 He tells them about a wonderful bay with magnificent water and sand bottom and marvellous cliffs where one can lay in the sun.
The family make the long journey and on arrival park their car and walk the last bit down to the beach.
Upon arrival they are met by a dissappointing sight. What they first saw appeared to be a mass of floating green algae, but because of the awful smell they soon realised it originated from rotting algae.

- Yuck!

The children wanted to bathe anyway after their long car journey. They were quick to change and jump into the water. Soon they realise that their feet are sinking into some form of bad smelling sludge. The wonderful sandy bottom that their father had told them about was not to be found!
The whole family were very dissappointed and wondered why it did not look the same as when dad was a child.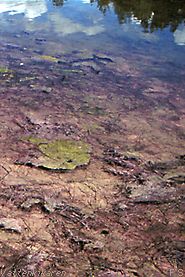 Things like this can happen when a family wants to travel to the sea and bathe and sun themselves. This dreadfull scenario is not necessarily true everywhere along the Swedish coast, but large areas have changed over the past few years.