Two plant types
The different specie are comprised of two different types of plants. On rocky beaches and cliffs, the large sexless plants are very noticeable, while the sexual plant is not as apparent with the naked eye. When the sexless plant reproduces, a sexual plant is produced and vice versa.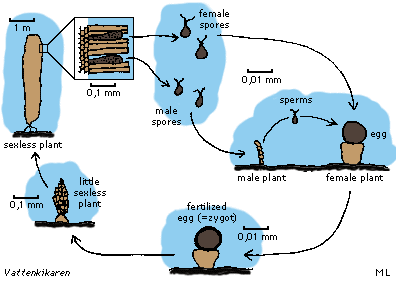 Lifecycle of the wracks. The sexless plant can be up to several metres long, while the spores, eggs and sperms are about a hundreth of a millemetre in size.
With many of the wracks, the sexual plants can only reproduce in water temperatures under 10-15 °C, and are therefore found in quite cold water such as in the north Atlantic. The further north, the larger the plants. This is probably due to that they grow over a longer period and not because they grow more quickly.

| | | |
| --- | --- | --- |
| | Page 1 of 9 | |