More about the plaice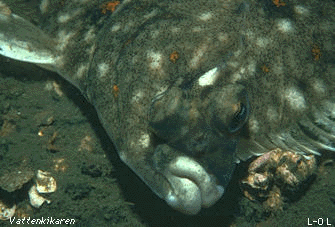 An adult plaice in shallow water, about 1,5 metres deep.
Way of life
The plaice lives on sandy and muddy bottoms from the shoreline and to a depth of about 200 metres. Most adults are found at depths of between 10-50 metres, while the young are almost exclusively found in shallower water. During the summer it is possible to see a great many young plaice on shallow bottoms along the shoreline. In the autumn, when the young are between 7-12 cm, they wander into deeper water to pass the winter.

| | | |
| --- | --- | --- |
| | Page 1 of 2 | |