[Hermit crab in a jar! 1,1 MB]



Hermit crabs use a snail shell to protect the softer hind parts of its body.


Bags, jars and bowels are usefull on the beach, for example if you want to place certain organisms seperately and study them more closely.
Beaches are hard environments to live in, so that organisms that live there have to be tough, but be carefull and considerate. Organisms can survive if you lift them up and study them in the air for a short time. You can wet your hand beforehand in sea water to reduce the risk of injury.
If organisms are going to be stored in jars for a longer period, make sure that they have plenty of room. Place the jars in the shade, to protect them from the heat and remember not place predators with their prey, i.e. crabs can attack and eat those organisms that you want to study. Occasionally change the water. When you have finished studying the organisms you have caught, try and release them in the same area where they were captured.
With the help of Aquascope you look down into the water even when it is rippled. When the sea is warm, a diving mask is a better alternative to Aquascope.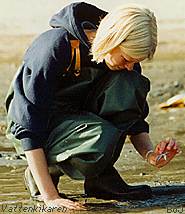 "Better a starfish in your hand than..."
| | | |
| --- | --- | --- |
| | Page 6 of 7 | |