Hydrozoas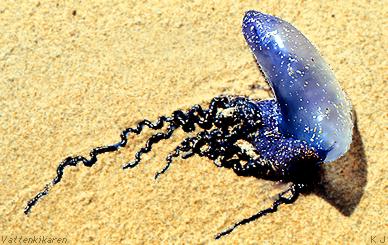 Polyp-stage
Many of the hydrozoas in Scandinavian waters build colonies on the bottom. They belong to a group called hydroids and are usually found attached to the substrate by a sort of stem. The colonies are built by the first polyp budding off with a new polyp that stays attached and branches off from the first one. In this way they can partake of the food the colony catches as a whole. With the use of its stinging cells on the tentacles the hydrozoas can catch small organisms that swim or drift by.
The hydrozoa colonies can have individuals that have specialized tasks like catching food, defending the colony or reproduction.
With one group of floating hydrozoas, the polyps can build large gas filled bladders or swimming individuals at the top of the colony and long threads with feeding polyps underneath. This type of hydrozoa is called asiphonophore.
| | | |
| --- | --- | --- |
| | Page 5 of 13 | |