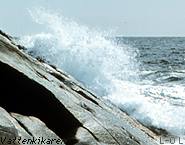 Just as variations in water level effect where organisms live, so does wave exposure. This effect can be noticable, especially on cliffs where the waves strike high. Because of this, Marine organisms can be found further up the cliffs where they are moistened by the waves and spray. There is also an effect on terrestial organisms as they are
unable to approach the sea as much, probably because the wave would wet them too much and that they would be exposed to salt. Along the Swedish coast, the bare belt is widest where the waves strike the cliffs, this is probably due to the level of the beach that can be completely drained or exposed to moisture during long periods is also widest here. Even other zones increase in width with increased wave exposure.
The waves also effect life further down the beach, but this diminishs with depth, even if the waves are big and result in sizable water movements down to 20 m.