To gain a better understanding of over-fertilization, we need to know more about water, its properties and characteristics. Organisms utilize nutrients in the water and their distribution is dependent of currents and layers in the water.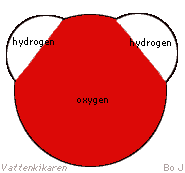 A water molecule contains one oxygen atom (O) and two hydrogen atoms (H), and therefore has the formula H2O.
The ends of the molecule have different electrical charges. The hydrogen ends have equal positive charges, while the oxygen end has a negative charge. This results in waters ability to bind many different elements and molecules because the different ends are able to bind to different parts of other molecules. Ordinary salt, sodium chloride, is a substance that easily dissolves in water because the positive sodium ions are drawn to the oxygen end of the water molecule, while the negative chloride ions are drawn to the hydrogen ends. Ions are atoms or groups of atoms that either pick up or discard electrons so that they have been charged electrically.
Many vitally important soluble nutrients in seawater are in ionic form. The ion content can vary greatly and sometimes be very low. However, the number of ions vary very little in relation to each other. The diagram below shows the quantities of the different ions in seawater.